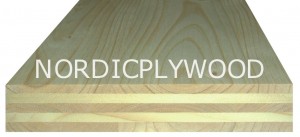 3-layer-panels  /  5-layer-panels
3-layer and 5-layer  solid wood panels are produced from raw material, which is very carefully graded.  Grading is done by computer-based camera and lasersystem. The 3-layer and 5-layer panels are easy to work, advantageous and their durability in relation to weight is superior. The 3-layer-structure gives even more stability and strength to the product.  This relationship make  panels ideal for an  increased number of applications. 3-layer and 5-layer solid wood panels are also a nature friendly product.There are many stock sizes available and panels can be cut almost any specified size. The largest panel-size is 1250 x 12 000 mm.
Specifications for SafeWood  3- layer and 5-layer solid wood panels
Tree species – Spruce, Pine, Birch
Moisture – 8 – 10%,
Lamella width – 21 – 45 mm
Glue -PVAc or Karbamide-glue
Glueing class – D4 (PVAc)
Formaldehyde class – Fc 0 (PVAc)
Fingerjoint – Fingerlength 15 mm, weatherproof MUF
Face – Sanded
Packet – 5-side-packing with plastic film, which protects against humidity and sunlight. Single-packing is possible.